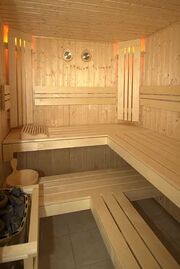 A
sauna
was a room that consisted of a steam or heat filled room, wherein the pores could be cleansed, and a pool or
hot tub
. Despite this, it proved hazardous, and often fatal, to species other than
humans
because of the concentrated heat levels.
==History==
A sauna was aboard the MedStar-class frigate and used daily by Admiral Tarnese Bleyd. He kept the temperature of the sauna so excessively high, that entering it would blister the skin of most of the crew. [1]
==Appearances==
*MedStar I: Battle Surgeons
*Death Star Designer
*LEGO Star Wars II: The Original Trilogy Template:Nc
*LEGO Star Wars: The Complete Saga Template:Nc
==Notes and references==
Ad blocker interference detected!
Wikia is a free-to-use site that makes money from advertising. We have a modified experience for viewers using ad blockers

Wikia is not accessible if you've made further modifications. Remove the custom ad blocker rule(s) and the page will load as expected.